---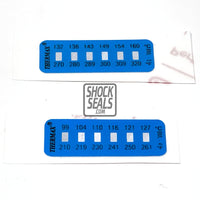 Adhesive backed heat strips allow you to see how hot your shocks got. These are referred to as "tattle tale" as they do not reset. Available in two temp ranges specific to shocks with either Buna/Nitrile seal kits 210-260F or Viton 270-320F. 
Great for shocks, transmission pan, diff covers, hubs, etc...anything you want to know how hot they got at some point. 

Top Tip: Inspect before and after every trip for early warning signs.