---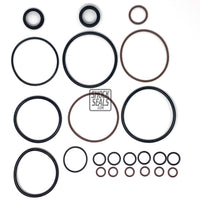 Seal kit includes all o-rings, seal and wiper to service: Sway-A-Way or Kuster shock with a 1.0" diameter shaft. Sealhead and resi ends must be screw in type, not snap ring or this kit will not work. Bypass tube o-rings included in kit.

Exceeds OEM kit quality and contents. 

Rod Seal is Parker Viton, Wiper seal is Parker carbon teflon with Viton Preload

Replaces:
Swayaway Part Number: 50700-103
SHOCKSEALS.COM PN: AHD-S30-100RR
Each seal rebuild kit services one shock unless stated otherwise.