---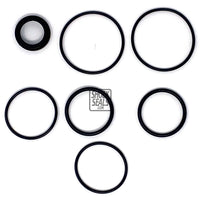 This kit includes the o-rings and wiper seal for use when rebuilding Funco air bag King 2.5 Prerunner shock. 1 kit per shock being serviced. King 2.5 Prerunner Shock rebuild kit still needs to be purchased in addition to this kit. 

Snap in Wiper Seal is Parker Urethane

SHOCKSEALS.COM PN: AHD-FUNCO
Each seal rebuild kit services one shock unless stated otherwise.