---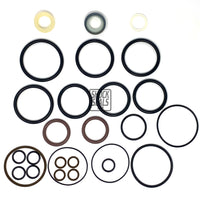 Sale
Seal kit includes all o-rings, seal and wiper to service: King 3.0 Prerunner Series with a .875" diameter shaft and 2.5" or 2.75" reservoir. Bypass tube o-rings included in kit. Covers both standard 2.75 resi and finned resi. 

Verify kit contents based on image. King OEM prerunner applications widely vary and all attempts have been made to cover most scenarios. If it is not in the picture, it is not included.

Wiper seal, Rod Seal, and Rod O-ring are Disogrin Urethane

Replaces:
King Part Number: PRSK378, 33000-902
SHOCKSEALS.COM PN: AHD-K30-875RR
Each seal rebuild kit services one shock unless stated otherwise.