---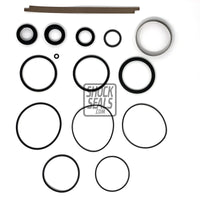 Sale
 FOR MODELS 2017 AND 2018 ONLY, DO NOT ORDER FOR 2019, 2020, 2021 Raptors

Requires Fox 803-01-213 to charge with Nitrogen or a Schrader retrofit kit.
This kit is for 2017 and 2018 GEN 2 Raptors front or rear with a 2.25" bore inner cylinder. If your shock has a 2.125" BORE the wearband will not fit. Model year 19/20/21 is where the 2.125 bore came out and then was eliminated in 2021. See other kits available for those. 

Seal kit includes all o-rings, charge pellet, wearbands, seal and wiper to service: Fox 3.0 OEM Ford Raptor with a .875" diameter shaft and piggyback reservoirs.

Uses OEM HNBR Rod Seal and Back up wiper.

Includes soft bronze filled wearband and reverse wrap PTFE wearband for 2.25 bore.



Replaces:
Fox Part Numbers: 803-01-280
Shockseals.com Part Number: AHD-F30-875RAP