---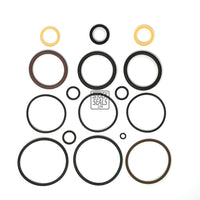 Sale
Seal kit includes seal head orings, seal and wiper to service: ADS 3.0 shock with .875" diameter shaft and  2.5" reservoir. Standard OEM Urethane kit.

Shock must have snap in wiper as shown

Wiper seal, buffer seal and rod seal are Parker. 

ADS Part Number: 300-COR00-SKU
SHOCKSEALS.COM PN: AHD-A30-875RR
Each seal rebuild kit services one shock unless stated otherwise.